THE LOCAL SETTING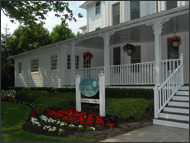 Tucked inside a 19th century lakefront Victorian, surrounded by gazebos,
green grounds and lush seaside gardens, hides a culinary jewel
who's "own name implies its desire to remain anonymous: Whispers."
- New York Times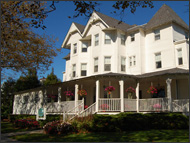 Located inside the Hewitt Wellington Hotel.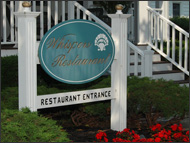 THE HEWITT-WELLINGTON HOTEL
Located "in a town where time seems to stand still."
- New York Times
At the turn of the century, the Hewitt Wellington was a luxurious vacation retreat for the wealthy and the privileged. In 1988, the hotel underwent extensive renovations, yet maintained its architectural integrity, old world charm and grace that have earned it a place in history.
Today this grand Victorian - style lakefront ocean view hotel once again provides the ultimate in graceful hospitality for a current generation of discriminating guests.
Offering a variety of room types from cozy bedrooms, elegant suites and stately conference facilities - The Hewitt-Wellington Hotel is the perfect weekend getaway.
" Spring Lake is blissfully out of date. It's a favorite of
New York City's Irish clans and anyone looking for an
attitude-free stretch of coast line."
- Travel & Leisure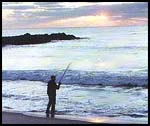 The picturesque seaside town of Spring Lake offers its residents and vacationers an unhurried atmosphere of gracious living which has made it a unique resort at the Jersey Shore for more than 100 years. Two miles of uncluttered beach and the longest non-commercial boardwalk in New Jersey add to the one-of-a-kind atmosphere of Spring Lake.
Turn-of-the-century architecture borders the wide tree-lined streets which surround a large lake. "Spring Lake" is named for the fountains of crystal clear water which emanates from a multitude of underground springs. Paths, shady nooks and rock gardens extend through the weeping willow lined shores of the lake and provide a peaceful spot for a quiet evening walk.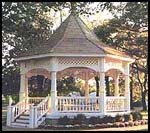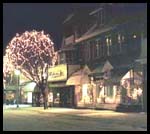 Shoppers also have a reason to enjoy Spring Lake. The town is noted for more than 60
fine shops and boutiques.
fine shops and boutiques. A variety of gourmet restaurants are here to tempt your appetite. Everything from home-cooked meal in a quiet atmosphere to continental cuisine in elegant surroundings is available.
- The above information provided by www.springlake.org